SHOW THE WORLD YOUR BEST.
We'll give you the opportunity to shine through NJCAA, NCWA, Division II, and Division III athletics competition. We'll help you find the drive to rise above and become more than just a winner on the court: our athletes are winners in the community through volunteering opportunities that are integrated with the program. We'll help you discover how serving others serves God and brings you closer to Him.
We're Thoroughbred proud – inside and out.
WE'RE RECRUITING NOW – ARE YOU READY TO RISE STRONG?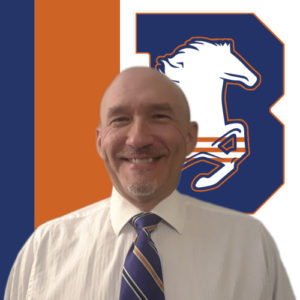 Mike Davis
Athletic Director
Mike is one of the lucky ones. He is a lifelong sports fan who has had the privilege of turning his passion into his vocation. He caught the sportscasting bug while a student at Toccoa Falls College, going on to be a part of the radio broadcast teams for NC State, Duke, Southern Miss, and others. He was the Sports Director for the North Carolina News Network before serving as the SID at Mid-Atlantic Christian University. And with experience as communication instructor for five years at Harrison College, Mike puts the emphasis on the first word in "student-athlete." He is thrilled to be a part of the team at Blue Lights College and guiding the Thoroughbreds to victory in the gym, in the classroom, and in life.
Blue Lights College
We don't care where you stay, but we care that you're here supporting your athlete. Here's some options of where to rest your head after the big game.